If you spot any issues with the gutters at your Owen Sound home, contact our team at Gorilla Gutters.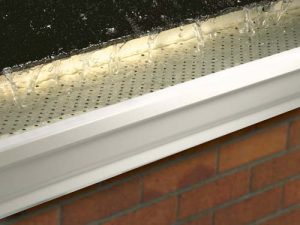 Your home's gutters are critical in protecting and maintaining the exterior appearance and functionality. When a heavy storm hits, the water should move off the roof quickly and through the gutters, where it can drain in the proper place. Without functional gutters, water can seep through your roof and damage your home's interior. Too much moisture might cause erosion to your foundation or damage the landscaping around your property. You could also notice wet, slick, or icy spots on the ground when water drips from the edges of the roof instead of moving through the gutters.
Many homeowners don't think too much about the gutters on their homes, at least not until something goes wrong. Signs of gutter trouble include wet spots on the ground around the home, missing sections, or clogged areas that don't allow for sufficient drainage. If you spot any issues with the gutters at your Owen Sound, Ontario home, contact our team at Gorilla Gutters. We provide all types of gutter services, including maintenance, installation, and repairs. Our technicians can inspect your existing gutters, clean them out on a routine basis, or install a new system if yours isn't able to keep up with the changing climate.
With more than 25 years of experience, Gorilla Gutters is one of the top companies in the area for eavestroughing, gutters, and exterior services. We specialize in a number of tasks related to gutters, with skilled and experienced technicians who take on the work. A functional gutter system will protect your home's exterior, so contact us to make sure your system is up to the task.
---
At Gorilla Gutters, we offer services for gutters in Collingwood, The Blue Mountains, Stayner, Wasaga Beach, Thornbury, Owen Sound, Wiarton, and surrounding areas of Ontario.