Let us tell you about the benefits of barn eavestroughs for your Collingwood property.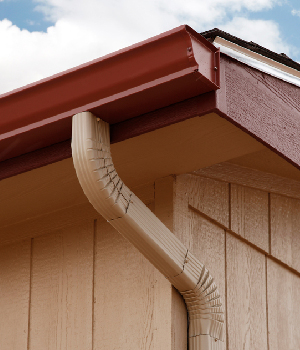 One of the reasons why people put eavestroughs on their homes is to keep water from drenching them as they enter or exit the home. This reason is just as valid for considering barn eavestroughs. In fact, you may enter and exit your barn rather frequently, as well. Here at Gorilla Gutters, we think barn eavestroughs are every bit as important and might even be more so.
A barn is often a huge investment, so you want to protect it just as you would your home. If rainwater is allowed to fall against the foundation storm after storm, it can threaten the integrity and lead to structural failure. That doesn't just put the barn at risk, but also anything you have inside your barn, including equipment, animal feed and supplies, and perhaps even livestock.
We offer plenty of barn eavestrough options, so the overall look of your Collingwood, Ontario barn can be matched. We can also install a leaf guard, so you won't have to worry about dealing with debris-filled eavestroughs. This is particularly important on barns where the roof line is far off the ground and it would be hazardous to deal with a tall ladder to clean the barn eavestroughs throughout the year.
We have over 25 years of experience, so we are confident we can give you both the aesthetically pleasing and highly functional benefits related to barn eavestroughs. We back our work with a 5-year labour warranty. The products themselves are warrantied for 20 years. Our unbeatable, top-quality work ensures you enjoy your barn eavestroughs for many years to come.

---
At Gorilla Gutters, we offer services for barn eavestroughing in Collingwood, The Blue Mountains, Stayner, Wasaga Beach, Thornbury, Owen Sound, Wiarton, Port Carling, Huntsville, Gravenhurst, Orillia, and surrounding areas of Ontario.