Copper eavestroughing is also very durable.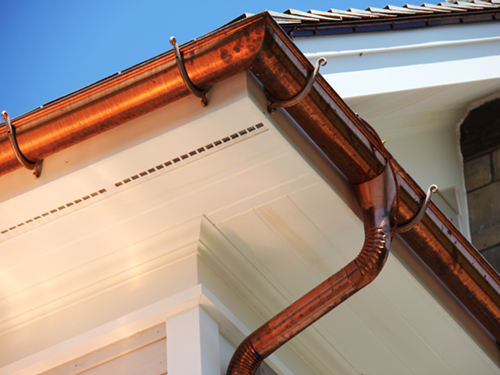 Many homeowners don't realize the importance of the drainage system on the exterior of their homes. Without a functional drainage system, you could end up with damaged landscaping and cracks in your foundation due to the excess moisture that would drain in areas that you don't necessarily want it. The material your drainage system is made of can also play a role in its durability and efficiency. At Gorilla Gutters, we understand that most people don't spend a lot of time thinking about their eavestroughs, so we'll do the work for you to make sure your home is protected.
One of the most appealing options among property owners in the Stayner, Ontario area is copper. This beautiful metal looks elegant, adding a touch of warmth and colour to the outside of a home. Copper eavestroughing is not the most common choice, so when you add it to your house, you can add some flair that will help it to stand out among the other homes in the neighbourhood. Copper eavestroughing is also very durable. This long-lasting metal will likely last for the life of the home and does not rust. It can oxidize, although this process forms a coating on the eavestroughs that actually looks quite appealing.
When you choose copper eavestroughing, you don't have to worry about maintenance. It is resistant to the growth of moss, fungi, and other natural substances. With so many benefits, it's easy to see why more homeowners are choosing this material for their eavestroughs. If you'd like to take advantage of the appeal of copper eavestroughing at your home, contact us at Gorilla Gutters for a quote.
---
At Gorilla Gutters, we offer services for copper eavestroughing in Collingwood, The Blue Mountains, Stayner, Wasaga Beach, Thornbury, Owen Sound, Wiarton, Port Carling, Huntsville, Gravenhurst, Orillia, and surrounding areas of Ontario.