Need some assistance with your exterior siding project? We can help!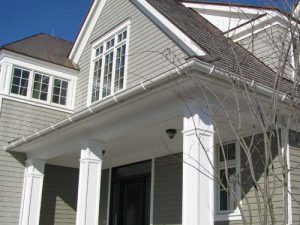 At Gorilla Gutters, we strive to meet all of your home service needs, beyond those of guttering. We also provide assistance with exterior siding projects. We offer several options for exterior siding for your Stayner, Ontario home. Some of the options we offer are vinyl siding, aluminum siding, and HardiePlank. Each type of exterior siding we offer has benefits and a range of styles and colours to suit you and your home.
Exterior siding is an important component of your home, so making sure your siding is in great shape is important. Siding protects your home from harsh weather, temperature fluctuations, pests, and moisture. The exterior siding on your home is also the most noticeable area of the outside of your home. Getting new exterior siding can change the aesthetic of your home, improve curb appeal, and increase your property value. Quality exterior siding can also positively impact the energy efficiency of your home, making it a great investment in the long run.
If you are looking to make some aesthetic changes to your home or are upgrading building materials during a renovation, our team is an excellent choice. All of our highly trained technicians deliver superior workmanship and have a strong focus on excellent communication and customer service. We have served the Stayner area for over 25 years and know the importance of your home. With each job we do, we offer warranties on both labour and products, a big plus for any type of renovation work.
Reach out to us if you have any questions or would like to enlist our team for your home service needs. We would love to assist you with your renovation to protect your home and family.
---
At Gorilla Gutters, we offer exterior siding services in Collingwood, The Blue Mountains, Stayner, Wasaga Beach, Thornbury, Owen Sound, Wiarton, Port Carling, and surrounding areas of Ontario.