Talk to us about the many advantages of square eavestroughing for your home or business in Collingwood.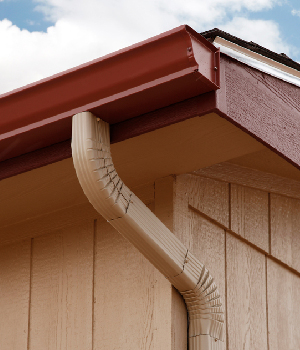 Traditional or European eavestroughs are rounded in shape, but square eavestroughing has many advantages and benefits for your home or business in Collingwood, Ontario. Here at Gorilla Gutters, we have decades of experience installing a variety of eavestroughing and can advise you on what type of eavestroughing may be best for your property depending on your roof type, architectural style and aesthetics of your building.
Here are some of the reasons to consider square eavestroughing for your exterior:
Clean, sleek look. Square eavestroughing complements modern architectural styles.
Variety of sizes. Square eavestroughing comes in lo-square and hi-square styles. Lo-square eavestroughs are 110mm high and hi-square ones are 130mm high. We can discuss which are better for your application.
Can be used with gutter guards: Square eavestroughs can clog over time, but gutter guards can prevent this problem before it begins. Gutter guards are particularly important if your gutters are under trees or other frequent debris that may get in the way of them draining.
Many colours available. You are sure to find ones to match your décor.
Resilient. Square eavestroughs are durable and long-lasting when installed correctly.
No matter what type of eavestroughing you are interested in, we can help you install it. We also offer repair and replacement services for homeowners or business owners who are ready to upgrade their eavestroughs. We provide all our customers with a 5-year warranty on our labour and a 20-year warranty on our products. Give us a call today to learn more about our services and products.

---
At Gorilla Gutters, we offer services for square eavestroughing in Collingwood, The Blue Mountains, Stayner, Wasaga Beach, Thornbury, Owen Sound, Wiarton, Port Carling, Huntsville, Gravenhurst, Orillia, and surrounding areas of Ontario.