Copper eavestroughing can give your property a stylish upgrade.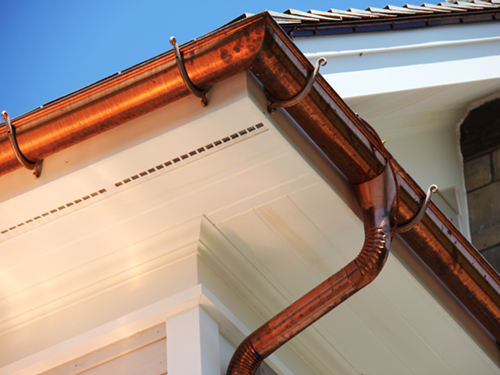 Even the smallest of details can make the biggest of impacts. This is true in many different areas, but at Gorilla Gutters, we often think about our gutters and the impact that they have on our homes and commercial properties. When you want a small detail to give your Owen Sound, Ontario property an upgrade in both style and useful function, you can't go wrong with a product like copper eavestroughing.
Copper eavestroughing is a perfect blend of function and style. Unlike other eavestroughing materials like steel, vinyl, or aluminum, copper doesn't ever rust. While copper ages, usually the only difference in the aging of copper versus new copper is the patina. Most copper tends to take on a different patina as it ages (think of an older penny versus a new and shiny penny), but it will always look great on your property. In fact, copper eavestroughing is such a durable material that, when well-cared for and maintained, your copper eavestroughing can last for as much as 50 years or longer!
One of the biggest benefits of working with our team at Gorilla Gutters for your copper eavestroughing is the fact that we know how to work with copper. Not everyone has the skills or abilities to work with this material, but with our 25 years of experience, we can mold it and work with it in unique ways. Additionally, we also offer seamless eavestroughing, giving your home no place for water to find a way out once your eavestroughing has been installed.
To learn more about copper eavestroughing or other options, please give us a call today at Gorilla Gutters.
---
At Gorilla Gutters, we offer services for copper eavestroughing in Collingwood, The Blue Mountains, Stayner, Wasaga Beach, Thornbury, Owen Sound, Wiarton, and surrounding areas of Ontario.